Support - DR 2100
Camera does not turn on
Most probably there is a problem with power supply to the device.
Check if power adapter is firmly connected into sigarette lighter socket. Then check power cable connection to camera's USB port. Make sure sigarette lighter socket has power.
Camera hangs during first start
This problem in 99% cases is caused by insufficient dash cam's internal battery charge. During transportation, the battery may discharge completely (this is perfectly normal). Once connected to the power (when you turn the key to IGNITION position), the dash cam starts to boot. However, once the starter engages, the voltage in car's electric system drops, and so the voltage in power adaptor. If the battery charge is not enough to maintain minimum required voltage, dash cam may freeze.
Once the dash cam's battery has at least 15% charge, it would be enough to withstand voltage drops during engine start, and the dash cam will not freeze. So in the future, this problem should never reappear.
How to fix the problem: charge the device for at least 30 minutes. You can use enclosed USB cable and any USB wall charger, or you can simply let it connected to power adapter in your car. Once the battery is sufficiently charged, the device will work as it should.
If this does not help, using any pin, press RESET button on the bottom side. If battery is sufficiently charged, the device will re-start and will work normally.
Camera does not record video
Check if memory card is present and installed correctly. Try to remove and reinstall memory card. If this doesn't help, format memory card. If it does not help either, replace memory card with new one. Use only MicroSD HC cards (up to 32Gb capacity), Class 10 or better.
Only few last minutes are recorded
This is because there is no more available space on memory card. Most probably, there are too many protected video segments. Format memory card and decrease shock sensor sensitivity (General Settings / Shock sensor menu).
Suction cup mount detaches from windshield
There might be some dirt or grease on the windshield or suction cup. Clean both silicon suction cup and the spot on the windshield with soapy water, and then replace suction cup.
There is no sound in recorded video
Microphone is muted. Check if microphone icon on the display is not crossed out. To unmute the microphone, press [] button when camera is recording.
Software and Downloads
User manual

Video player software

We recommend VLC player (free software of Windows, Mac OS X and Linux)
Free download at developer's site

Firmware updates

No firmware updates available
Specifications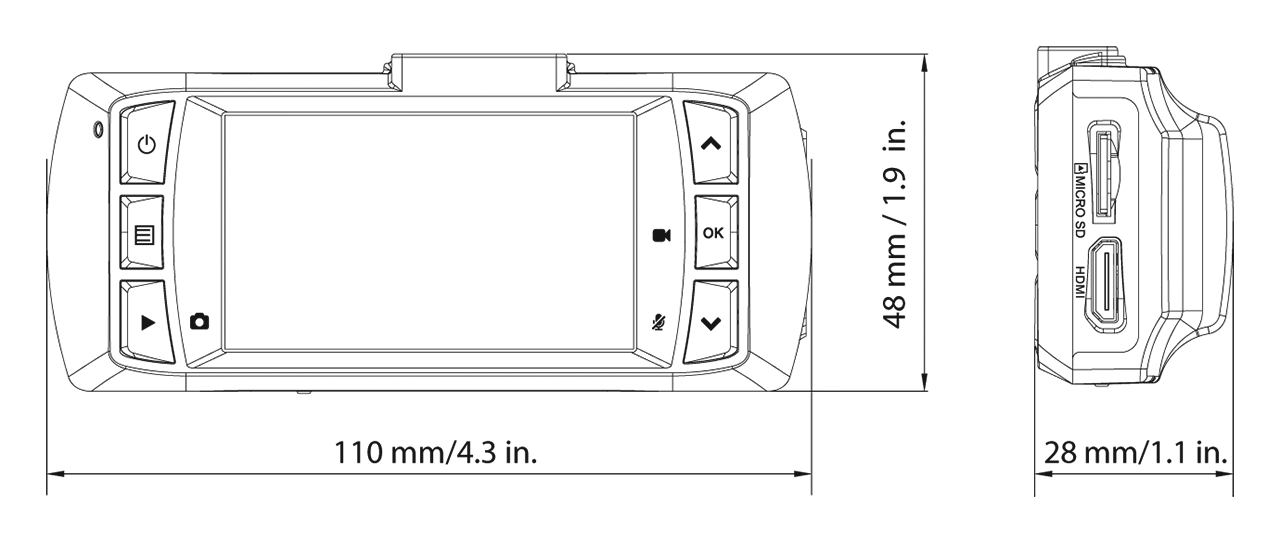 Resolution

Full HD 1080p (1920x1080) at 30 fps
HD 720p (1280x720) at 30 fps
VGA (640x480) at 30 fps


Video format

h.264 compressed .MOV

Lens & imaging sensor

110° viewing angle (diagonal)
1/3" 3mpix next generation CMOS sensor

Features

Shock sensor, loop recording, high sensitivity microphone, AV out, HDMI, USB port

Memory cards supported

Micro SDHC, up to 32GB

Can be mounted off windshield

Yes, alternative mount included

Product dimensions

4.3x1.9x1.1 in.

Net weight

2.3 oz. (without mount, memory card and cables)

Packaging dimensions / weight

7.8x5.7x2.2 in.

Packaging weight

1.0 lb.

UPC code

861137000307
In the box
Dashboard camera DR 2100

Suction cup mount with rotating shaft

Power adapter with extra USB port, 11½ feet power cable

For use with cigarette lighter / car accessory power port. Works on vehicles with both 12V and 24V electrical systems.

16 GB Micro SD card

Comes with MicroSD to SD card adapter and plastic travel case

Cable clip (6 pcs.)

Plastic cable clips with self-adhesive base. Use these clips to route the power cable.

User manual

3 feet data data cord

For connecting the dash cam to computer.

Warning stickers

California law requires a notice that passenger conversation may be recorded. Use these stickers inside your car if you drive it in the State of California.